A few years back, a brick and mortar store called The Kilted Nation opened. They sold both contemporary and modern kilts from other manufacturers. Eventually, the owner took lessons learned from his products and designed one of his own. The resulting garment outlasted the store and I acquired an olive heritage model through a reseller.
I always liked the sizing mechanism of this kilt. It's a hybrid of the traditional straps and modern snaps. There are four sets total so unless you shrink a lot or massively weigh the pockets down, a belt is optional.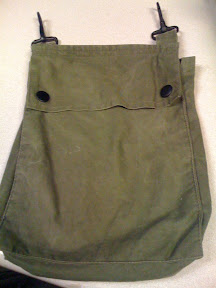 Speaking of pockets, this model has two massive, removable clip-ons. This gives the garment a fair amount of versatility. Remove both, touch up with an iron, add a sporran and you're semi formal. Attach both to d-rings of your choosing and it's good for a hike.
Another thing I like with the pockets is pleats took priority over adding a small, semi-useless wallet pocket emblazoned with the company logo. The pleats are a bit tougher to maintain than I'd like due to the ultra-light poly/cotton material used. I've had the kilt turn into a tu-tu after a long drive. While easily fixed, I don't always have 3-5 minutes to spend flattening things out a bit.
This particular fabric is very easy to clean. I've spit into a tissue and removed spots along the apron a few times no problem and it machine washes just fine. The problem with it is durability.I appreciate that 65 pounds of scrambling puppy isn't easy on material. However, this is the one kilt in my collection she's managed to puncture.
Further, there are some very annoying workmanship and quality issues. If you look above, that pocket bulges a bit weird on the right side. That happens because it was apparently never sewn in one spot. If you look at the pleat shot, you'll notice a belt loop is a twee bunched up. That's the result of thread closing the d-ring's portion of the loop letting go. That happens to the vast majority of any weight bearing loops.
While such things require a thread match and some rudimentary sewing, the MSRP is $160.00. My Amerikilt is two years older, cost $70.00 less, and has 1/8 the wear and tear. So long as you're not looking for a waist in excess of 44", Trinity will provide something with a removable fleece liner for $125.00 and it's apparently indestructible. The Heritage isn't a bad kilt but mid-grade outsourced workmanship drags it down to a point where it's just not a competitive value.
65/100
Http://www.nationkilt.com
- Posted using The Hammer